Getting What You Pay For?
A Look at America's Top-Ranked Public Universities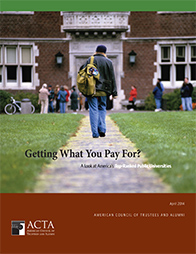 April 2014 by ACTA
ACTA today released a report that finds the country's leading public institutions fail students and the American people in several key areas. Getting What You Pay For? examines 52 top-rated institutions to separate reputation from results. The report finds that too many leading, publicly-funded institutions don't provide students with high academic quality at a reasonable price. Bloated administrative costs, shaky curricula, outsized athletic spending, and misplaced priorities have created a campus environment where too many students graduate ill-prepared, with record debt, and years later than they should—if they graduate at all.


SELECTED FINDINGS
Executive Summary
America's great public universities were founded with the highest expectations of academic excellence and service to their states. Continue Reading >>