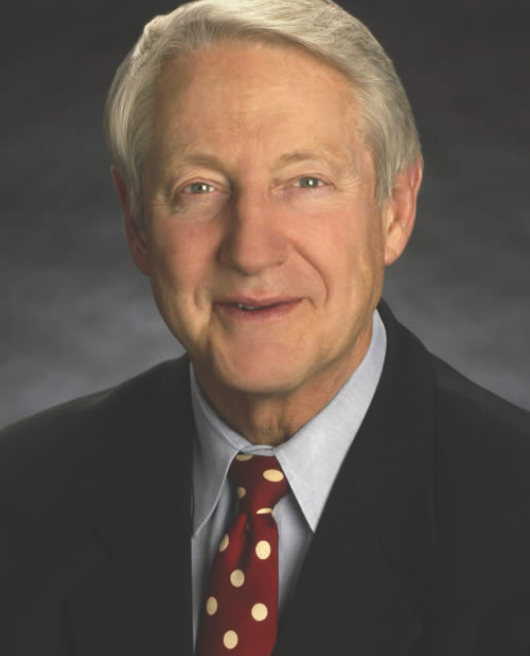 George "Hank" Brown
Hank Brown began his Congressional career in 1980 as representative for the fourth district of Colorado. He was elected to the U.S. Senate in 1990, where he served as Chair of the Middle East Subcommittee and Chair of the Constitutional Law Subcommittee. While serving in the Senate, Mr. Brown authored legislation expanding NATO membership to central European nations, establishing the first formal accounting system for the federal government, and stewarding and expanding Colorado's conservation and wilderness areas.
After his term as senator, Mr. Brown served as the president of the University of Northern Colorado (1998-2002) and of the University of Colorado (2005-2008). The Chronicle of Higher Education called him "The Rescuer," for guiding the University of Colorado out of the crisis that preceded his presidency. He led the University to record growth in enrollment, donations, and diversity, and the largest increase in state funding in the school's history. In 2017, he served as the interim president of Arcadia University.
Mr. Brown is one of 22 signatories to ACTA's Governance for a New Era report—a call for trustees to work with faculty and presidents to form effective responses to ever-increasing tuition costs, outsized administrative expenditures, and the erosion of academic freedom. Mr. Brown also has worked closely with ACTA on reforming the current system of college accreditation, and served on the National Advisory Committee on Institutional Quality and Integrity (NACIQI). He is the 2015 recipient of ACTA's Philip Merrill Award for Outstanding Contributions to Liberal Arts Education.
Mr. Brown received a bachelor's degree in accounting from the University of Colorado, a master's degree in law from George Washington University, and a Juris Doctorate from the University of Colorado School of Law. He volunteered for the U.S. Navy from 1962 to 1966 and was decorated for combat service as a forward air controller.