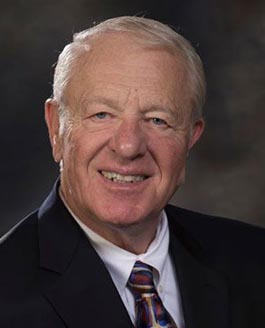 John Altman
Chairman
John W. Altman earned his Bachelor of Arts degree in Economics from Miami University. He is also a graduate of Fuller Theological Seminary, and the Harvard Graduate School of Business Administration. Professor Altman was awarded honorary doctorates of humane letters by Miami University in 1990, Phillips Graduate Institute in 2002, and Sierra Nevada College in 2007.
During a long and distinguished career as an entrepreneur, Dr. Altman had the great privilege of being a sole proprietor, founder, partner and/or significant shareholder in eight businesses. As the co-founder and executive vice-president of Continental Polymers, Inc., the company's products were sold in 26 countries with multiple plants and licensees abroad. At the time of sale to ICI in 1991, the company was the second largest manufacturer in the United States, and third in the world, of acrylic polymers.
Dr. Altman returned to Miami University in 1992 as the Herbert E. Markley Visiting Executive Professor of Business. In July 1994 he was appointed the first Richard A. Forsythe Professor in Entrepreneurship and the first permanent Director of the Thomas C. Page Center for Entrepreneurship. In 1998 Professor Altman became the first Robert E. Weissman Professor of Entrepreneurial Practice at Babson College. While at Babson he continued his research in the area of Entrepreneurship, and Corporate Venturing.
At Miami University Dr. Altman has served on the Alumni Board, Business Advisory Council, Board of Visitors, and the Richard T. Farmer School of Business Administration. He is currently a member of the Investment Committee, and Chairman, Finance and Audit Committee as a National Member of the Miami University Board of Trustees. Overall, Dr. Altman has served his alma mater for more than a half-century. In April 2001, Dr. Altman was the first inductee into the Miami University Academy of Entrepreneurs.
As Chairman of the Board of Trustees, Sierra Nevada College (SNC), Dr. Altman directed the historic partnership with Knowledge Universe Learning Group LLC (KULG) and Cardean Learning Group LLC (CLG). The relationship between a for-profit entity (KULG/CLG) and a nonprofit institution of higher learning places SNC in the forefront of entrepreneurial thinking in American higher education. He is also a founding member of the Nevada Center for Entrepreneurship and Technology, and was appointed Honorary Director of Entrepreneurship for the State of Nevada by Governor Kenny Guinn.
Dr. Altman's proudest achievements include being an Eagle Scout, Vietnam era Army veteran, and recipient of the Wright Brothers Master Pilot Award for fifty consecutive years of dedicated service in aviation safety. The John W. Altman Charitable Foundation, of which Professor Altman is Chairman, continues to steward the entrepreneurial wealth of one family that strongly believes business owners are guests in their communities and therefore obligated to reinvest their time, treasure, and talent into making the world a better place.