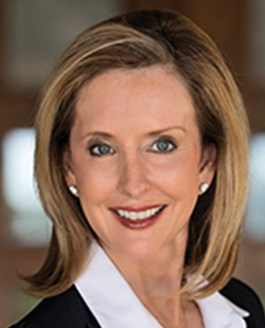 Karrin Taylor Robson
Karrin Taylor Robson is a long-time Arizona business leader and land-use expert. She is founder and president of Arizona Strategies, a premier land use strategy firm headquartered in Phoenix.
Ms. Taylor Robson has worked with national organizations representing major landowners and stakeholders across the country to advance balanced federal environmental law and policy on endangered species acts and wetlands issues. In addition, she has advanced multiple public-private partnerships, leveraging private sector capital to deliver public infrastructure and other public benefits.
Ms. Taylor Robson has served on the boards of numerous government, community, and economic development organizations. In June 2017, she was appointed by Governor Doug Ducey to the Arizona Board of Regents which is responsible for the governance of the state's three public universities, Arizona State University, Northern Arizona University, and the University of Arizona. During her tenure, she created the Regents' Cup, an annual debate competition between the three universities. The event fosters vibrant democratic engagement that teaches students how to communicate respectfully with each other and exchange thought-provoking ideas in the spirit of free inquiry.
She served as the chair of the Joe Foss Institute, the vice chair of the Greater Phoenix Economic Council, and as a board member of the Arizona Chamber of Commerce and invisionAZ. In addition, she serves as a member of the Civic Leaders Group for the Chief of Staff of the United States Air Force.
Prior to forming Arizona Strategies, Ms. Taylor Robson served as executive vice president of DMB Associates, Inc., a Scottsdale based master-planned community developer. Earlier in her career, she was a principal with the law firm of Biskind, Hunt & Taylor, P.L.C., where she practiced in the areas of land use, development, and zoning law representing large landowners on significant and complex land use cases.
Through her numerous professional, community, and philanthropic commitments, Ms. Taylor Robson advocates daily for building and sustaining a dynamic and diverse economy, protecting property rights and creating value in real estate, and supporting the men and women who serve in our military.
Ms. Taylor Robson is the wife of Ed Robson and the proud mother of four.