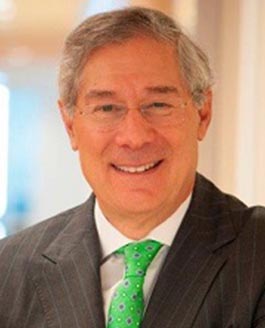 Paul S. Levy
Paul Levy is a former trustee of the University of Pennsylvania and former overseer of Penn Law School, who publicly resigned in April 2018 in protest of the University's treatment of law professor Amy Wax. His resignation letter provided a spirited defense of academic freedom and intellectual diversity, and garnered regional and national media attention from the Wall Street Journal and the Philadelphia Inquirer.
A private equity expert and former lawyer, Mr. Levy founded the New York-based investment firm JLL Partners in 1988 and now serves on the management committee. Previously, he was a managing director at Drexel Burnham Lambert, where he oversaw the firm's restructuring and exchange offer business in New York. He has served as the CEO of Yves Saint Laurent, Inc., New York; vice president of administration and general counsel of Quality Care, Inc.; and an attorney with Stroock & Stroock & Lavan LLP.
Mr. Levy is a noted philanthropist who, along with his wife Karen, established the Levy Scholars Program and funded the construction of the Levy Conference Center, among other gifts, at Penn Law. At Lehigh University, Mr. Levy created and funded the Levy International Scholars Program to introduce outstanding high school graduates to the Lehigh community. He has supported organizations that span the arts, education, healthcare, Jewish Studies, and social services: Mr. Levy has served as the director of BioClinica, Inc.; as a trustee of the National Constitution Center; and as the chair of the George Jackson Academy Board of Trustees. His wife serves on the board of Rockefeller University and The Juilliard School.
He received his B.A. from Lehigh University, where he graduated summa cum laude and Phi Beta Kappa. He earned his J.D. from the University of Pennsylvania Law School, and a certificate from the Sorbonne Institute of Political Science in France.